WORLD GOLD THEATER 2018 Saitama Gold Theater × SUGAWARA Naoki " Yomichi Ni Hi wa Kurenai" (Night Never Gets Darker) Urawa Version / Photo: Maiko Miyagawa, Courtesy of the Saitama Arts Foundation
* This performance has been canceled due to the spread of COVID-19.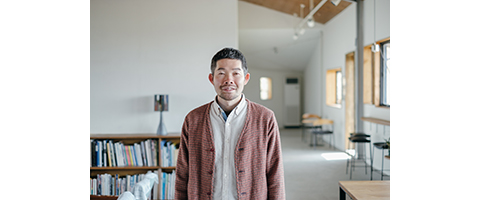 Photo: Kazuki Kusaka
SUGAWARA Naoki is a playwright, director, actor, and certified welfare caregiver. He is the leader of the group "OiBokkeShi."After graduating from J.F. Oberlin University, he became an actor of Seinendan Theater Company. Centering on small theater productions, he has performed in the works of MAEDA Shiro, MATSUI Shu, TADA Junnosuke, SHIBA Yukio, KAMISATO Yudai among others. While pursuing his career in theater, since 2010 he has worked as a certified caregiver at a special needs nursing home for the elderly. He moved to the Okayama prefecture in 2012 following the Great East Japan Earthquake and Tsunami. SUGAWARA has held an "Aging and Theater Workshop" program across various parts of Japan that incorporate theatrical techniques into caregiving for elderly people inflicted with senility. His activities that approach issues regarding super-aged society from unique perspectives of "theatre" has recently attracted attention from various fields beyond genres of theater and welfare.
The performances of OiBokkeShi include "Yomichi Ni Hi Wa Kurenai"(Night Never Gets Darker) (2015), "Rojin High School" (High School for the Elderly) (2015), "BPSD: Boku no Papa was Samurai Dakara (BPSD: Since my Father is a Samurai) (2016), and "Cameraman no Hentai" (Perverted Photographer) (2017/18). He received the 2017 the Art Encouragement Prize for New Artists of The Minister of Education, Culture, Sports, Science and Technology's Award.d (Development of the arts Division).
http://oibokkeshi.net
PROJECT Page