Release date:Dec. 6, 2019
Information on program contents in December
NEWS:Annex Sight
The Sightama Art Center Project is being implemented as a leading project for the Saitama Triennale 2020 to be held in March 2020. We are planning a program with various genres of instructors this month, so please join us.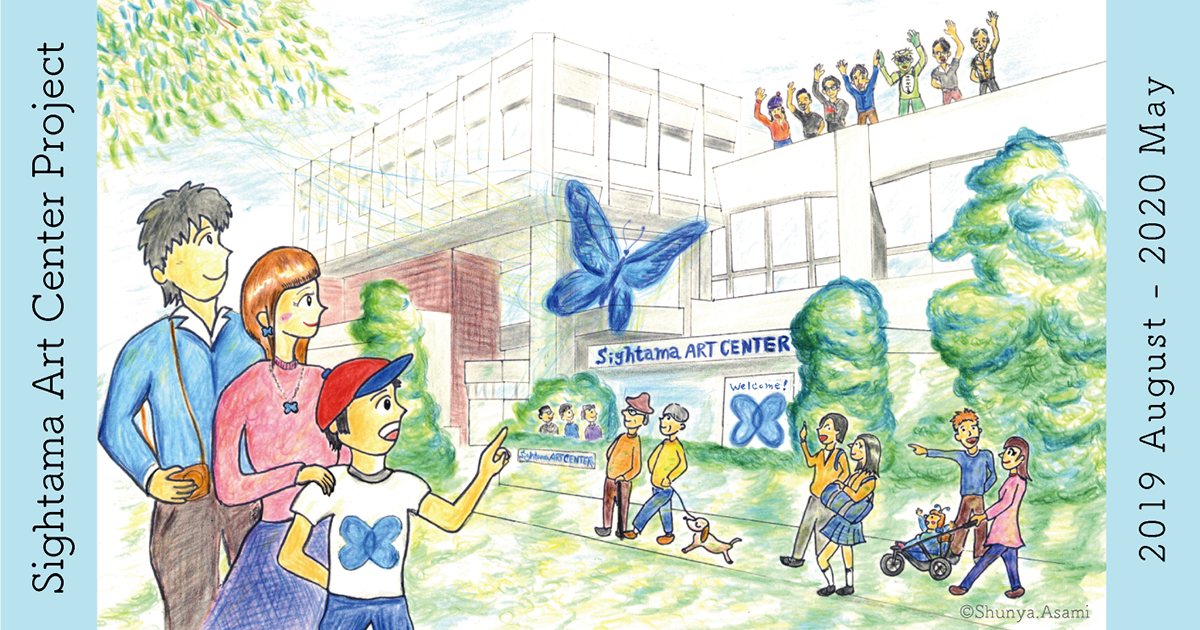 - Take a deep breath on Wednesday -
Knitting memory - body, music, video -
Appearance: Mikitamaki (DamaDamTal), Hiroshi Aoki, Shunya Asami
Date and time: December 11 (Wednesday) 19: 00-21: 00
Venue: Former Omiya Library underground theater
Content:
A special stage at "Saitama" by three artists who have collaborated and created together in various places. Please enjoy the works created by artists who have been active in the way of expressing their body, music and images. Please also see the DamaDamTal exhibition in the 1F exhibition room.
Beginning - Kobayashi Miki Live
Appearance: Miki Kobayashi
Date: December 25 (Wednesday) 19: 00-21: 00
Venue: Former Omiya Library and underground theater
Content:
Mizuki Kobayashi's live performance as a singer-songwriter. The first, scheduled for a total of 4 performances, will be delivered on the theme of "beginning". Something is over and something begins. We will deliver mainly songs that you have always wanted to do, things that you couldn't do easily, and songs that gently push your back. You can decide when it will begin. Why don't you relax at Omiya's small theater this Christmas?

We will perform the most four performances among the performers. I hope to be able to deliver a time where you can immerse yourself in the sound at each time while developing a single story throughout the whole. Enjoy as much freedom as you like.
- Art school on Saturday -
What can be done in performance -Discussion about social potential and personal expression of performance-
Lecturer: DamaDamtal
Date and time: Friday, December 13, 19: 00-21: 00
Venue: Old Omiya Library / Lecture Room
Contents: A team of artists who gather various ideas and come up with ideas to create attractive works.
Share the creation secret of "DamaDamTal".
In recent years, he participated in the Nakanojo Biennale 2019, during the 1-month exhibition, the performance was highly popular among the various works exhibited throughout the day.
Current production with students from "Himawari special school" and "Saitama Sakae High School Dance Club" as outreach activities. We will also report on this.
Art Appreciation Laboratory vol.2 - Let's write and tell the way of art
Lecturer: Seiji Shinohara
Date and time: December 27 (Friday) 19: 00-21: 00
Venue: Old Omiya Library / Lecture Room
Contents: The second part of the laboratory that welcomes Mr. Shinohara, a curator at the Ashikaga Museum of Art, to study how to see and transmit art. This course conveys the art of art through writing.

Various works that color the art festival include the memories and thoughts of the creators, as well as the time to completion. When you face the work, please try not only to shape and color, but also to the creator's feelings.
- Art challenge on Saturday -
Former Omiya library, large, blasphemy, and steep to enjoy borderless art! (Part 2)
Coordinator: NPO Cookie Project
Date and time: December 7th (Sat) 13: 00-16: 30
Venue: Old Omiya Library / Lecture Room
Contents: A workshop to share ideas for everyone to enjoy art from various discoveries gained through a great adventure walking on the former Omiya Library. Let's go beyond the challenge with the great spectacle following the first part (11/23), the wisdom, courage and love of everyone. Let's go to see the different scenery ahead! !
Let's dance anything!
Lecturer: DamaDamtal
Date and time: December 14th (Sat) 13: 00-16: 30
Venue: Old Omiya Library / Lecture Room
Contents: Dancing from daily life such as waking up in the morning, brushing teeth, taking a walk, eating rice. Try to capture your important behavior as a physical expression, such as drawing a picture, taking a picture, singing a song. WS which does not learn dance but experiences creative activity called "make dance". Free clothing. Beginners and those who are not confident in physical fitness are welcome. Anyone over elementary school can participate.
Meeting of real feelings
Facilitator: SACP team
Cooperation: KAPL
Date and time: December 28 (Sat) 15: 00-17: 00
Venue: Old Omiya Library / Lecture Room
Contents: Talk about the art festival! Let's talk about "real intention" now!
Today, there are many art festivals and art projects all over the country. In 2020, the International Art Festival will be held in Saitama City. Art is being developed in spaces where people come and go from spaces such as museums and galleries, and people from various positions are involved in the search for new art development. The discovery of local resources through art, the revitalization of the region, the light of economic ripple effects ... While these things are said, the site is not said to be smooth sailing, and there are many scenes that face various issues and become exhausted. It is certain that it exists. I would like to ask people from various sites and positions about the "real intention" of what is happening at various sites through the "real conference". This is the 6th time this year will be held as a party to look back on the program so far, in conjunction with the 2019 year-end party. While I can hear the noisy footsteps to 2020, I want to share the true feelings of the site now! We want to share the experience gained in those places and grow a strong "root"! Thank you for your participation!
- Participating artists special program -
Will you finally come! ? That kappa teahouse! ! (Saitama first landing)
Date and time: December 1st (Sunday) 14: 00-17: 00
Venue: Old Omiya Library / Lecture Room
Contents: Future Artist: A program to experience Saitama, a living city through a unique approach by local Ichiro Endo. The first is Kappa Chaya by Kappa Master. This is Saitama's first program. Would you like to have an uncertain experience while drinking tea?

I think it 's never been done before. I don't know what will happen. It shakes because it is too unknown.