Release date:Feb. 10, 2020
All three types of poster visuals featuring cartoonists have been completed
NEWS:Information
All three types of poster visuals for Saitama International Art Festival 2020, which will start on March 14, have been completed! It was created based on the concept of "A viewer with an art festival flyer is watching an art work." With the hope that various generations of people will enjoy the art festival, three manga artists have been appointed to draw viewers of the Saitama International Art Festival 2020. Starting with the city's public facilities and shopping streets, the museum will be distributed sequentially to the outside of the city, including museums.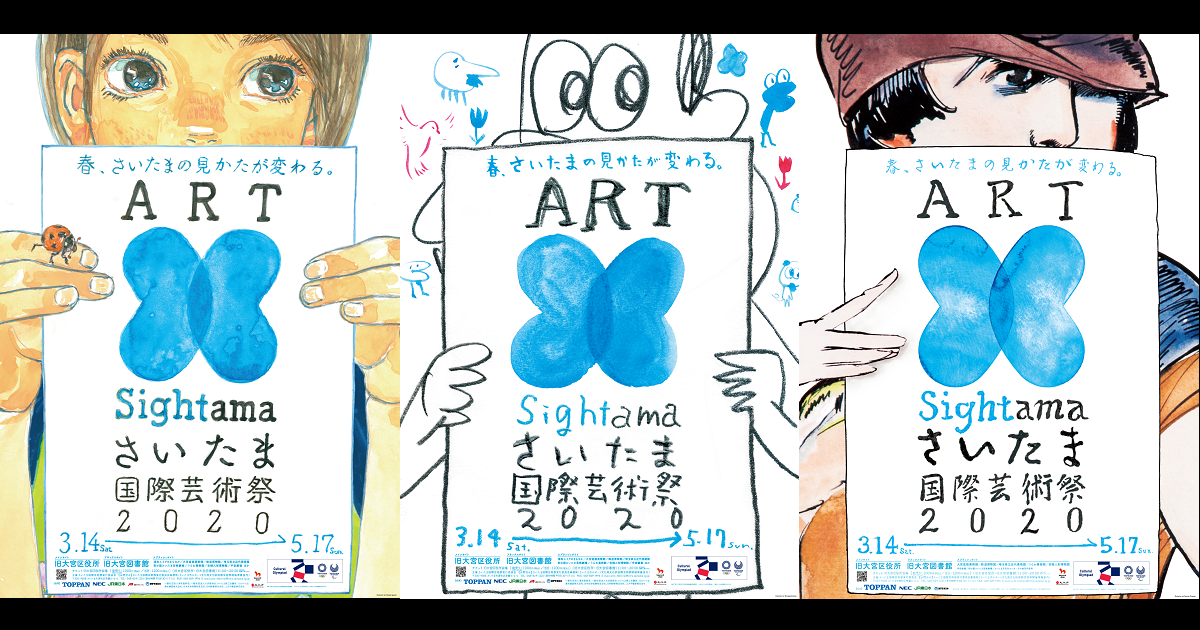 (left)IGARASHI Daisuke

【profile】
Born in Saitama Prefecture in 1969. manga artist. Graduated from Tama Art University, Department of Painting. It boasts charismatic popularity due to its high power and delicate depiction. It features a dynamic and delicate style of drawing the beating of nature, and is known for its magnificent works on the theme of nature, creatures, and landscapes.
Major award-winning works and representative works include "Witch" (Cultural Agency Japan Media Arts Festival Manga Category Excellence Award), "Child of the Sea Beast" (Japan Cartoonists Association Award for Excellence, Cultural Agency Media Arts Festival Manga Category Excellence Award), "Little"・ Forest, Designs, and Mermaid Singing Sound.
(Center)SHIRIAGARI Kotobuki









【profile】
Born in Shizuoka City in 1958. Graduated from Tama Art University Graphic Design. He is a professor at Kobe University of Art and Design, a visiting professor at Yokohama Art University, and a part-time lecturer at Nihon University College of Art. Debuted in 1985 as a manga artist in the book "Electric Spring". He is attracting attention as a new type of gag manga artist with a focus on parody. While continuing his own activities in a variety of genres such as newspaper satirical four-frame manga, feature-length story manga, and underground manga, in recent years he has expanded his creative horizons to various fields other than manga, such as video and art. A number of exhibitions are also held. In Yokohama, "Japan x Art Exhibition" (Yokohama Museum of Art, 2006) and "Yutopia-We are looking at the world dimly" (Yokohama Civic Gallery, Azamino, 2012). Major awards include the 5th Osamu Tezuka Culture Award Manga Excellence Award (2001) and the 15th Media Arts Festival Manga Division Excellence Award for the 15th Japan Media Arts Festival (2011). , "Akagi Milk Industry Black Series" 50th Galaxy Award CM Category Excellence Award, 53rd ACC Award TV CM Category ACC Silver Award (2013), Medal with Purple Ribbon (2014).
(right)KITAZAWA Rakuten


【profile】
Born in 1876. He was the first professional manga artist in Japan who was active from the Meiji era to the early Showa era, and established caricatures, which had a low reputation as "punch pictures" at the time, as sophisticated modern comics with sophisticated artistic and social characteristics. He also launched Japan's first color manga magazine, Tokyo Pack, and as a spokesman for the people, fully satired the people, life and culture at that time. He settled in Bonsai-cho, Omiya-shi (now Bonsai-cho, Kita-ku, Saitama-shi) and called his new home "Rakuten-i", and spent the days painting Japanese paintings. After his death, he was nominated as an honorary citizen of Omiya City and became the first honorary citizen of the city. In 1966, the Omiya City Manga Kaikan (now Saitama City Manga Kaikan) opened on the site of the former residence.