Release date:Oct. 16, 2020
Circulation Saitama final presentation will be held
NEWS:Annex Sight
Until Circulation Saitama, since September 2019, we have been planning projects unique to Saitama City, focusing on the three axes of "mobility," "public space," and "social inclusion."
As the social situation changes drastically from the public presentation held in December, please listen to the plans of each team updated according to the times.
We are also looking for people to cooperate with the project. Please listen to the presentation and let us know if there is a team you are interested in.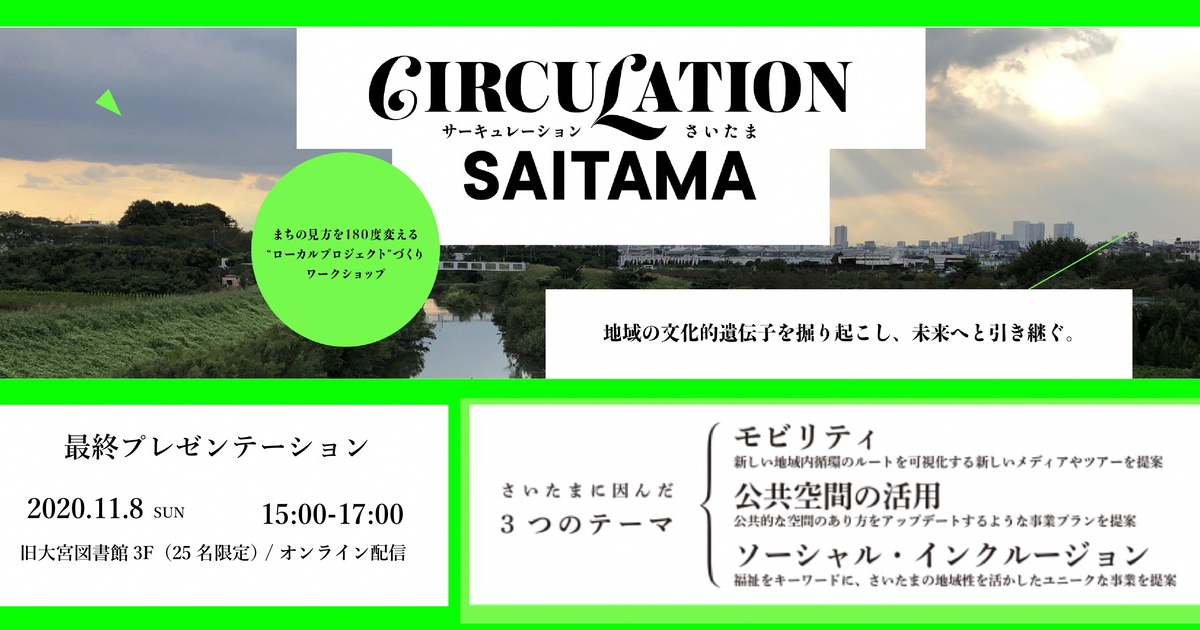 An online reservation is required in advance to visit the venue.
* Live streaming will be filmed at the venue. If you are concerned about the reflection in the video, please inform the receptionist.
If you can't come to the venue, please see the live broadcast.
Date, venue, etc.
Date and time: Sunday, November 8th, 15: 00-17: 00 (opens at 14:30)
Venue: Former Omiya Library
Capacity: 25 people

Presentation team introduction
〇 Mobility team
In addition to the railway network that connects vertically to central Tokyo, we will consider ways to utilize mobility that has never been seen before, such as traveling sideways in Saitama City using a new transportation system and bicycles.
〇Public space team (2 teams)
While redevelopment is progressing around terminal stations such as Urawa Station and Omiya Station, Saitama City has a peaceful rural landscape a short distance away. Structure / non-structure = We will consider a business plan that updates the way public spaces should be, regardless of the road.
〇Social inclusion team
With welfare as the keyword, we aim to propose "software" such as unique projects that take advantage of Saitama's regional characteristics and workshops that encourage interaction between the elderly and children.
The state of the workshop is published on Circulation Saitama's facebook. Please see here as well.
https://www.facebook.com/CirculationSaitama/