Release date:Oct. 21, 2020
The Art of Questioning" exhibition by Kouboushu is now open!
NEWS:Information
 Unique and fascinating works of art that are born out of severe disabilities. We accept people with all kinds of disabilities and do not abandon them. We are going to hold the exhibition "Questioning Art" at Saitama Kaikan, which has been postponed from the spring session.
Paintings and forms with originality and the existential nature hidden in mere "fumbling"... "Questioning Art" powerfully questions the meaning of human expression and existence, and the source of life.
We invite you to feel the "questions" posed by the 78 artists through their works.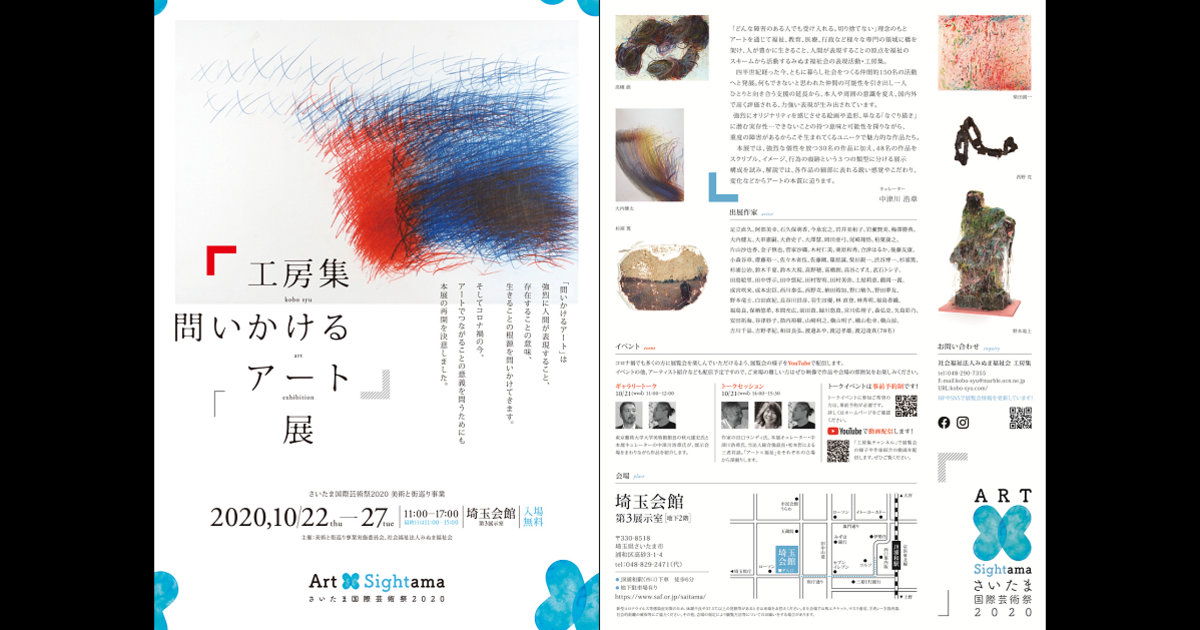 Workshop Collection "The Art of Interrogation" (free admission, no reservation required)
During the exhibition period: Thursday, October 22, 2020 - Tuesday, November 27, 2020
Hours: 11:00 a.m. - 5:00 p.m. (until 3:00 p.m. on the last day)
Venue: Room 3, Saitama Kaikan
Please refer to the attached leaflet.
The exhibition will also be shown on YouTube.
Click here for the YouTube channel of kobosyu
Event (*Reservations required)
(1) Gallery Talk
[Date and time] Wednesday, October 21, 2020, 11:00 a.m. - 12:00 p.m.
Participant] Yuji Akimoto (The Museum of Fine Arts, Tokyo University of the Arts), Hiroaki Nakatsugawa (Curator, "Questioning Art" exhibition)
(2)Talk session
Date and time: October 21, 2020 (Wednesday) 2:00 pm to 3:30 pm
Cast] Taguchi Randy, Hiroaki Nakatsugawa, Satoshi Matsumoto
Those wishing to participate in the event are required to make a reservation in advance. For more information, please visit the website of Studio Shu.
Click here for the Studio Collection website.