Franck Bragigand "Urban Concern-Osaka", 2004, Painted tram, Breaker project / Photo: Seiji Toyonaga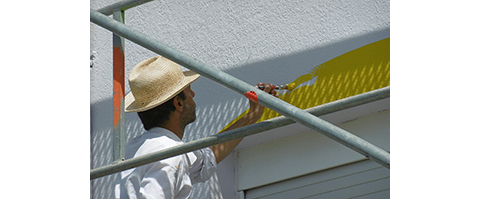 Franck BRAGIGAND, who defines himself as a "realistic painter," critically interprets contemporary society through the items and trash in our mass consumption society, engaging in a practice that focuses on the concept of "restoration of daily life." Rather than creating something new, he engages in a means of practice that centers on the act of restoration - painting things and spaces that already exist in society, in particular those that have aged and been forgotten or are no longer used.
His major exhibitions and projects include "Utopia-Dystopia" Krefeld Museum (Krefeld, 2019), "Art Language" Stedelijk Museum (Breda, 2017), "Arts in Marrakech International Biennale" (2009), "Kanazawa Art Platform 2008" (Ishikawa, 2008), and "Urban Concern-Osaka" Breaker Project (Osaka, 2004-2005).
In 2012 he launched his own "Artist in residence" project, in which he stayed in a depopulated village in France and developed works at schools and public facilities while working together with local residents. From 2016 to 2019, the project has been implemented in 47 villages across Pays de Bitche (France).
PROJECT Page