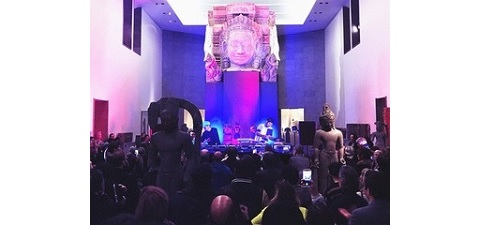 ©︎Soi48
Soi48
Soi48 is a DJ unit who unearth and introduce various music encountered on their travels in a wide range of format from records, cassette tapes, CDs, VCDs, USBs, etc. They participated in the production of Kuzoku film "Bangkok Nights" , for which they received the Mainichi Film Award for Best Music. In 2017 they published a book on Thai music and their travels titled, "TRIP TO ISAN: A Music Disc Guide to Traveling in Isan, Thailand" (DU BOOKS). They are engaged in communicating the appeal of Asian Music and travel through the release of the Thai Music Series from EM Records in which they collaborate as supervisor, and by participating in the Fuji Rock Festival, overseas DJ tours, talk shows, and radio.
http://soi48.blogspot.com
Thongsai Thabthanon
Thongsai Thabthanon is a phin player of Phet Phin Thong, a comedy group of the Ubon Ratchathani, a city in the Isan region of northeastern Thailand. In the early 70s, he invented the electric phin with leader of the group Nopphadon Duangphon, while referencing the sounds of an electric guitar. He is the creator of the Phin Prayuk, which has currently become a classic style for ceremonial parades. Using a buffalo horn pic and playing on two-strings while tuning without adjusting to the Western scale, this style of Phin Prayuk bands are currently on the verge of becoming obsolete.
* Participation has been canceled due to the spread of the new coronavirus infection.
Monaural mini plug
Japan's only Phin Khaen Prayuk Band plays and blasts loud BGM essential for celebratory occasions in Thailand. The band earned its authentic groove of this unique music by visiting and learning from famed phin player, Tak Lam Phloem and other local musicians in the Mekong River basin, perfectly reproducing the local feast with a 220 V sound system set in a cart imported from Thailand. Based in Tokyo, the band plays at clubs, outdoor festivals, parks and restaurants. Their first full album "SAMURAI MEKONG ACTIVITY" was released by P-Vine in 2018, and they played at FUJI ROCK FESTIVAL'19.
https://monaural-mini-plug.jimdofree.com/
RIYO Mountains
A duo DJ unit who loves Japanese folk songs and is active in the DJ party "Soi48" where music from all over the world is played. We collect / research folk songs from all over Japan, play DJs, and reissue CDs and records.